Stage 1 Fire Restrictions in Effect. Stage 1 Fire Restrictions include a ban on fires including campfires, charcoal, coal and wood stoves, as well as a ban on fireworks.
Fire Restriction Shortcuts:
Please use this page to navigate to external sites that list Fire Restrictions for areas near and within Summit Fire and Medical District.
SEPTEMBER 1, 2020 CURRENT FIRE RESTRICTIONS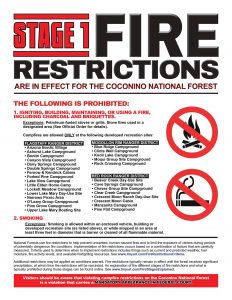 All Fire Restrictions in Arizona, County Specific
Coconino National Forest Home Page, Fire Danger Listed
Coconino National Forest Fire Restrictions: Posted and Explained
Sign Up for the Coconino County Emergency Alert System
InciWeb: Specific Information on Wildfires – Interactive Map